This series of gold targets, four in number, were discovered by the Company at Slieve Glah in County Cavan, following a detailed soil sampling programme. They lie approximately 20 miles to the southwest of the Clontibret Gold target. These gold targets each extend to 3 km in length and appear to be associated with a major geological structure; the Orlock Bridge Fault.
The targets occur as a series of right angle zones adjacent to the Orlock Bridge Fault. This is a major sinistral fault believed to be an influencing factor on mineralisation in the region. In the Slieve Glah area the Orlock Bridge Fault undergoes a marked swing from its normal northeast - southwest strike, producing a dilatational zone allowing greater permeation and circulation of mineralising fluids, which also may assist in concentration of mineralisation and thus can be associated with substantial accumulations of minerals.
The presence of the nearby Crossdoney copper and molybdenum-bearing granodiorite, known as the 'Crossdoney Granite', provides the basis for an exploration model for the area with potential for significant gold deposits.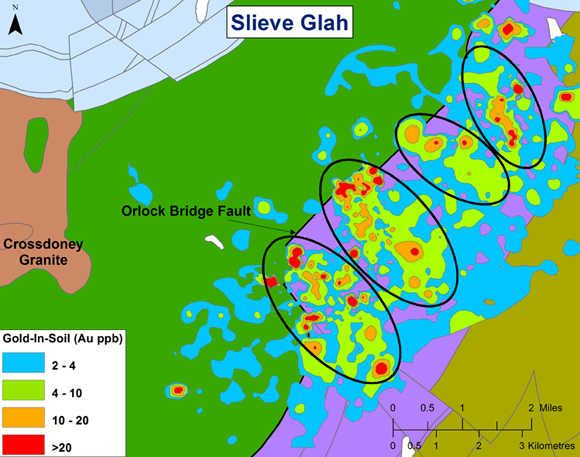 Simplified geology of the target with the Crossdoney Granite to the west of the target soil anomaly
Gold was confirmed by the Company in bedrock in the Slieve Glah target area through trenching and diamond core drilling.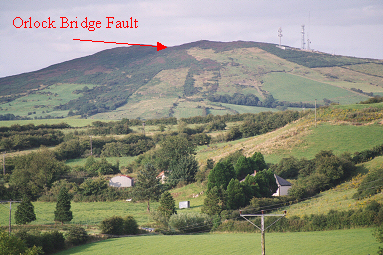 Photograph of the Orlock Bridge Fault in Slieve Glah