The Clay Lake gold target extends for 2 km by 1 km, (c.140 ha / 350 acres) and lies at the north-eastern end of the 40 mile gold trend which Conroy Gold has discovered. This target was named after the Clay Lake Nugget; a 30.05g nugget with a gold content of 28g. The nugget was found in the mid 1980's and is now displayed in the Ulster Museum in Belfast.

Clay Lake Gold Nugget, courtesy of the Ulster Museum.

Clay Lake and other major gold targets discovered to date on 40 mile (65 km) gold trend.
Gold-in-soil values averaging over 50 ppb Au, including the highest gold-in-soil value seen to date, 1,531 ppb Au (1.53 g/t gold), were recorded in soil samples collected over the Clay Lake target area during the Company's exploration programme.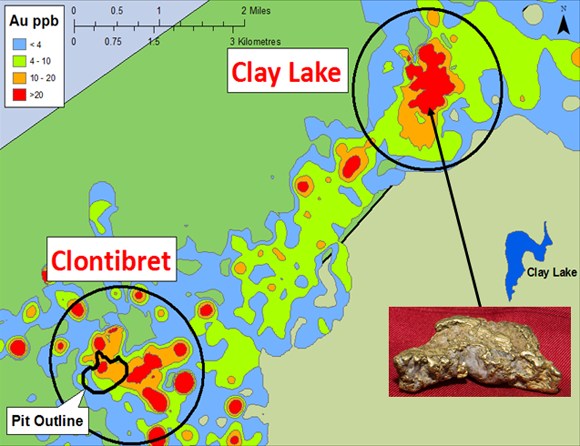 The Clay Lake gold target lies 7 km (4.5 miles) northeast of the Clontibret gold target.
Rock chip samples identified gold in bedrock which comes to surface in the northern part of the Clay Lake target in the form of a black carbonaceous stockwork. The rock chip samples in the exposed rock returned 18 metres at 0.47 g/t gold and included 3 metres at 1.30 g/t gold before the exposure ceased.
The map shows contours of gold-in-soil results; the orange areas are above 10 ppb Au, which is very anomalous for gold, and the red areas are above 20 ppm Au.

Carbonaceous stockwork outcrop in stream

Sample from stream showing carbonaceous stockwork
Subsequent drilling identified a 450 metre open ended zone of black carbonaceous stockwork with the second drill hole intersecting 63 metres @ 0.62 g/t gold including 9 metres @ 1.48 g/t gold. This black carbonaceous stockwork zone appears to be part of a plunging anticline, which may form a repeating sequence of gold-bearing saddle reef structures.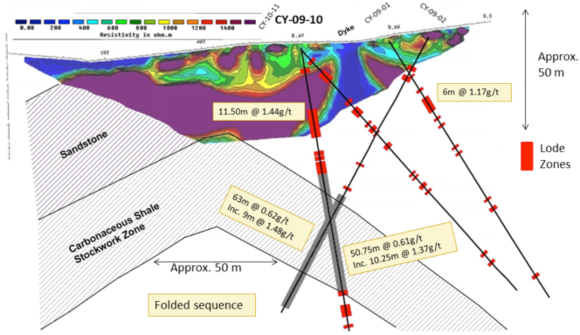 Clay Lake drill core showing folding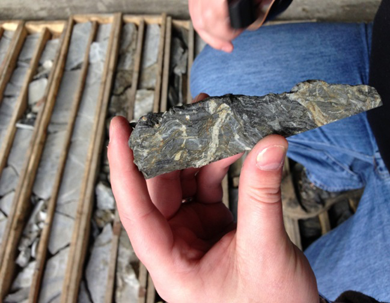 Clay Lake gold target cross section
The Clay Lake target appears to be a black carbonaceous shale hosted gold deposit; such deposits can be very large.
Examples of major carbonaceous shale hosted deposits
Deposit
Location
Au Million Oz
Au Grade (g/t)
Age of host rocks
sedimentary Lithologic
units
Macresa Flat
New Zealand
8.0
1.2
Jurassic
Carbonaceous
Schists
Spanish Mountain
Western Canada
1.7
0.8
Triassic
Carbonaceous
Mudstone, Greywacke
Nezhdaninskoye
Russia
10.0
5.4
Early Permian
Carbonaceous
Siltstone, Sandstone
Zarmitan
Tien Shan Asia
15.0
9.5
Silurian
Metasediments
Muruntau
Tien Shan Asia
169.3
3.5-4.0
Ordovician-Silurian
Carbonaceous
Mudstone, Carbonate
Sandstone
Amantaitau
Tien Shan Asia
9.2
3.7
Ordovician-Silurian
Carbonaceous
Metasediments
Bendigo
Se Australia
17.1
12.9
Lower Ordovician
Sandstone,
Carbonaceous
Mudstone
Sukhoi Log
Edge Siberian Craton
61.4
2.8
Neoproterozoic
Carbonaceous
Mudstone
Siltstone
Telfer
Patterson, WA
50.0
1.5
Neoproterozoic
Sandstone
Mudstone

Brasilia - Morro
Do Ouro (Kinross)

Brazil
17.4
0.4
Neoproterozoic
Carbonaceeous
Phyllite

Modified after Ross Large et al. 2011 A Carbonaceous Sedimentary Source-Rock Model for Carlin-Type and Orogenic Gold Deposits (Economic Geology v106 pp.331-358)
Black carbonaceous shale hosted gold deposits share a number of characteristics:
These gold deposits include districts such as Tien Shan in Asia which are part of continental margins.
The districts underwent collision events, accompanied by emplacement of granite batholiths with folding and regional metamorphism of sedimentary rocks.
Geophysical data infer that deep-seated granite bodies underlie the gold camp
Overprinting contact metamorphism occurred.
Hosting structures include deep-seated shear zones
Gold mineralisation post-dates metamorphism events and is in close spatial and temporal relation to dyke belts.
Clay Lake gold target encompasses all the above points
After Bortnikov (1995) – Mineralogy, geochemistry, and origin of the black shale hosted gold deposits of the former Soviet Union in Mineral Deposits: From their Origin to their
Environmental Impacts : pp 935- 937
Gold potential at Clay Lake
Clay Lake, a carbonaceous shale hosted gold deposit, as indicated above, encompasses many of the geological attributes of major sediment-hosted gold deposits.
Examples of these gold deposits include:
The multi-million ounce gold deposits at Tien Shan such as the 169.3 million ounce Muruntau mine, one of the largest gold deposits in the world.
The 17.4m Kinross mine in Brazil which at a grade of 0.41 g/t gold and a cost of US$720/Oz produced over 453,000 ounces gold in 2011.
While work on the Clay Lake target is still at a relatively early stage, long gold intersections encountered in drilling to date suggest the potential for very high tonnage and overall gold content.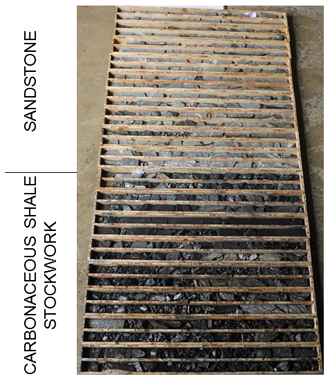 Clay Lake Drill Core – Sandstone and Carbonaceous Shale Stockwork Zone