Other Gold Targets identified in the Longford-Down Massif
Cargalisgorran Gold Target
The Cargalisgorran gold target lies approximately 1 km south west of the Clay Lake gold target.
A detailed programme of soil sampling and geological mapping and interpretation at Cargalisgorran led to a successful trenching programme identifying a series of mineralised zones in the bedrock.
A follow up drilling programme intersected the extension of these zones and returned mineralised intercepts of 6.94 m grading 4.14 g/t gold and 9.27 m grading 1.88 g/t gold.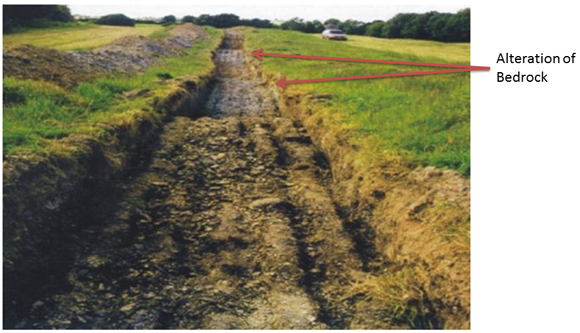 Cargalisgorran trench showing gold zones depicted by alteration of bedrock (pale areas).
Central Structural Zone Gold Targets
Landsat ETM, DTM and airborne geophysical surveys have been carried out over the Central Structural Zone. These surveys have led to the identification of a complex structural zone conducive to circulation of mineralised fluids within the area.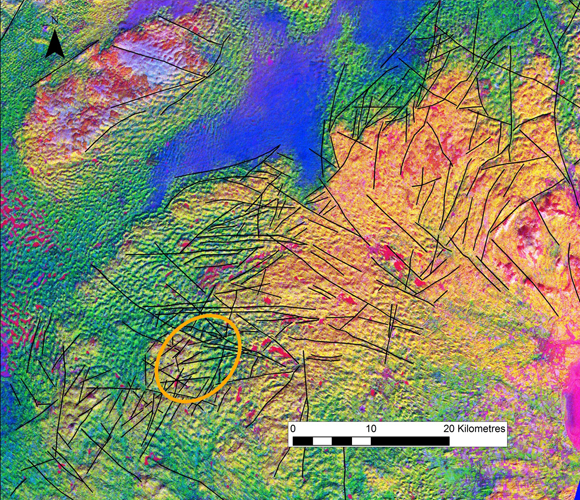 Lineament Analysis using Landsat ETM data.False colour composite - Red: band 6 (thermal characteristics); Green: bands 5/7 ratio (near infrared and infrared - clays and Al/Mg hydroxides); Blue: bands 3/2 ratio (visible red and near infrared - iron oxides).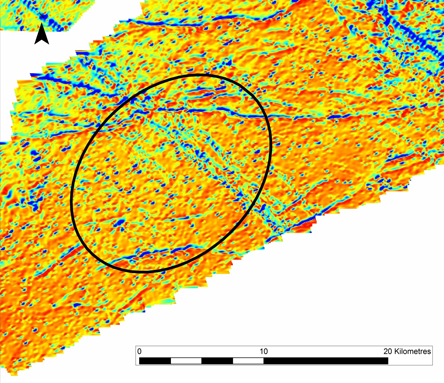 Airborne Magnetic Data Reduced to Pole with a pseudo colour display and sunangle filter. The Central Structural Zone is highlighted with a black circle. As can be seen in this image the confluence of lineaments occur in this area
Similar such features have been shown to be a focus of gold mineralisation in other localities already tested by the Company such as Clontibret. The presence of carbonaceous black shales in this area may also be significant.